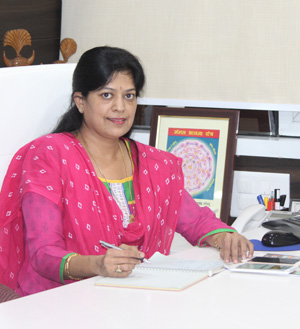 Chairman's Message
CA Ritu S. Jain
Dear Stakeholders,
It's my pleasure to share with you're the company's performance for the last year.The company has registered a growth of around 2 times in gross turnover and the net profit has grown by 3.2 times as compared to previous year. You all have been part of this success. I congratulate the entire SR Team for the excellent performance.

SR is committed to its mission statement "Creating Sustainable Values with Integrity, Consistency, and Excellence." We serve our client to the best of our ability, expertise and efficiency. We value your values. Focus is now shifted from economy to value for money. Since its incorporation, our focus has been creating value for our esteemed stakeholders under the shelter of "Win-Win" proposition.

SR has also extended its contribution in HRD as part of their CSR activities. We have become the accredited partner of National Institute of Solar Energy (NISE) and The Skill Council for Green Jobs. We have successfully developed technical and financial skills of around 350 entrepreneurs and engineers and 270 Surya-Mitras in solar segment. I am sure that those training would have resulted in furtherment of their career paths.

The Government of India is focusing to encourage development of around 450 GW from Solar Energy by 2030. A galore of opportunities has opened. Time to perform and amaze the world with our commitment, performance and excellence. Come, join hands and witness astonishing outcomes.